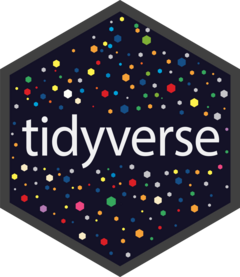 Changelog
Source:
NEWS.md
tidyverse 2.0.0
CRAN release: 2023-02-22
tidyverse 1.3.2
CRAN release: 2022-07-18
tidyverse 1.3.1
CRAN release: 2021-04-15
tidyverse 1.3.0
CRAN release: 2019-11-21
tidyverse 1.2.1
CRAN release: 2017-11-14
tidyverse 1.2.0
CRAN release: 2017-11-07
Changes to tidyverse membership
stringr and forcats have been added to the core tidyverse, so they are attached by library(tidyverse).

reprex joins the tidyverse to make it easier to create reproducible examples (#47)
Other improvements
On attach, tidyverse now makes better use of the horizontal space, printing packages and versions in two columns (#59). It only prints packages that it attaches, not packages that you've already attached. Development versions are highlighted in red.

You can now suppress this startup message by setting options(tidyverse.quiet = TRUE)

tidyverse_conflicts() now prints all conflicts that involve at least one tidyverse package; Previously it only omitted any intra-tidyverse conflicts (#26). I've also tweaked the display of conflicts to hopefully make it more clear which function is the "winner".

tidyverse_update() now just gives you the code you need to update the packges, since in general it's not possible to update packages that are already loaded.

feather is now actually in suggests.
tidyverse 1.1.1
CRAN release: 2017-01-27
Moved feather from Imports to Suggests - feather is part of the tidyverse but it's installation requirements (C++11 + little-endian) make it painful in many scenarios (#36).
tidyverse 1.1.0
CRAN release: 2017-01-20